URBAN DRONE
INFRASTRUCTURE
AERIAL SOLUTION For Cities, Towns and metropolitan areas
Designed to provide aerial data services over a network of smart drones deployed and linked to an urban control center, the Urban Drone Infrastructure functions as a municipal service that helps shorten response times of security and rescue forces to emergency situations, supporting law enforcement and homeland security activities, and streamlining diverse services provided by the municipality for the public benefit. The Optimus drone infrastructure can operate as a task-force that can simultaneously collect and provide critical information for a variety of fields including Public Safety, Public Works, Commercial and Industrial Entities.
Disaster Assessment Support
Preliminary Scene Assessment
Medical Emergency Delivery
INCREASE EFFICIENCY OF CORE PUBLIC SERVICES
CREATE NEW INCOME FOR THE MUNICIPALITY
24/7 Aerial Video and Analytics | Rapid Aerial Visualization and Modeling | Automated Mapping Survey and Analytics | Aerial Delivery
DEFENSE DRONE
INFRASTRUCTURE
AERIAL SURVEILLANCE AND COUNTER DRONE SOLUTION
Airobotics provides an integrated trusted unmanned aerial solution to address the needs of Defense and Homeland Security entities - enabling 24/7 video surveillance and analytics, counter drone protection and various types of data capture, analysis and aerial missions. All Airobotics systems and solutions offer government grade reliability, and can be easily integrated with any 3rd party Command and Control applications, private network configurations and ground equipment.
INDUSTRIAL DRONE
INFRASTRUCTURE
DIGITAL TRANSFORMATION SOLUTION
The Airobotics Optimus automated aerial infrastructure enables end users such as project managers, supervisors and other stakeholders to operate drones in real-time and to use aerial automatic data capture and analysis. The infrastructure provides varied automated aerial missions 24/7 with no human intervention, together with customized data analysis platforms, various sensors and rapid data handling to enable faster, more effective and more efficient operations and fully informed critical decision-making.
EMERGENCY & INCIDENT RESPONSE
assets and FACILITIES Remote Security Monitoring
24/7 On-Demand Aerial Video and Analytics | Aerial Security Patrols | Full Integration to 3rd party Applications
SURVEILLANCE
AND MONITORING
Situational Awareness and Asset Condition Monitoring To Reduce Risk of fatal Failures
On-Demand Aerial Video and Analytics | Supervisor Rounds and Assets Inspection | Health Safety Environment and Quietly Data Platform
INFRASTRUCTURE & UTILITIES
INDUSTRIAL & COMMERCIAL FACILITIES
PROJECT PROGRESS
MONITORING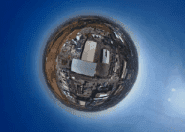 daily/weekly hi-res
orthophoto & dem
daily/weekly classified
lidar point clouds
Automated Progress Geo-Visual Monitoring To reduce Rework and Timeline Risk
Design vs. Built Visualization, Excavation Progress Survey, interactive Daily Briefing | GIS Portal & Geo-Analytics | On-demand Aerial Survey.
LAND RECLAMATION & HEAVY EXCAVATION
Heavy infrastructure construction
HEAVY TRANSPORTATION CONSTRUCTION
Heavy industrial construction